Back from Bali: Thanos Liontos updates us on Luxury and Greece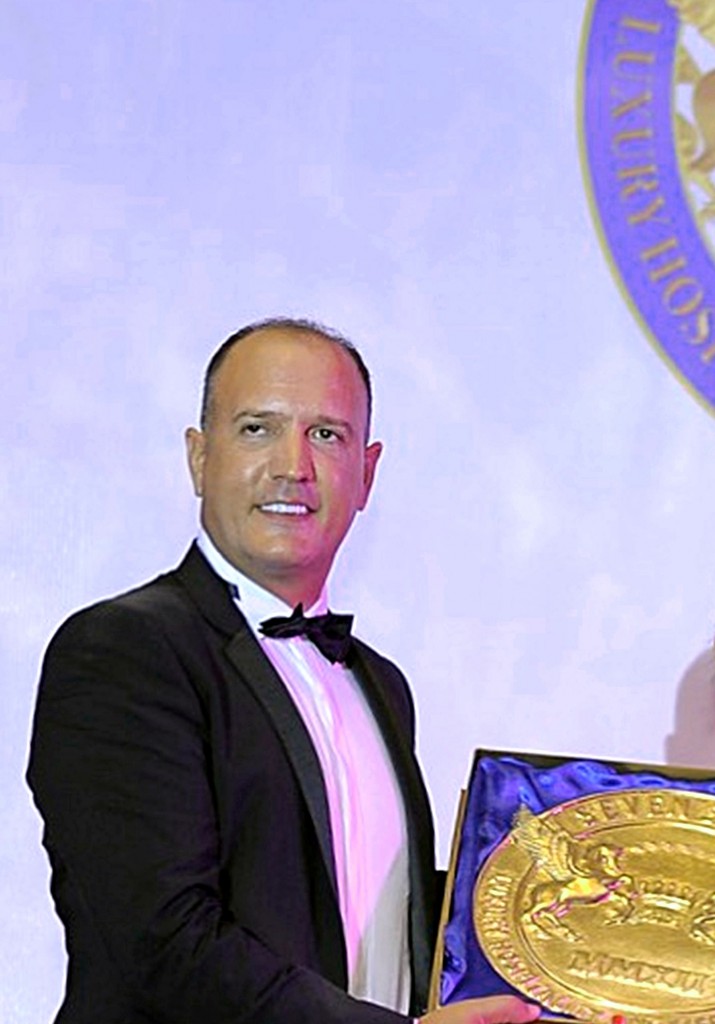 Our man in Greece,Thanos Liontos just returned from the Seven Stars Luxury Hospitality And Lifestyle Awards gala in Bali and we caught up with him. He shares his opinions and thoughts on the luxury travel market and gives us an insider perspective on Greece.
TheTopTier: Thank you again Thanos for taking time out from your schedule to share your thoughts. There seems to be a lot of negative financial news coming out of China and Europe. How would you rate the current level of demand for luxury travel? What do you think the reasons are for the increasing/declining demand?
Thanos Liontos :Good morning to you and your honorable readers. I truly thank you for this interview at this particularly crucial time for the lives, the future and the employment of all of us in relation to everything that is happening on an international level regarding the economic crisis.
It is true that we hear bad news every day, huge successful companies collapse due to the economic crisis and this is something that concerns us all, nowadays.
The economic crisis has affected many sectors, including luxury tourism which is my area of expertise. More or less, many have faced a decrease in their income which has led to cutbacks in their way of living, their daily routine and of course their travels.
I have observed a noticeable reduction regarding the quantity of luxury travelers but not in the quality, which is very positive. Perhaps some may plan a 10-15 day vacation instead of a monthly holiday, the may reduce the duration of their stay but are reluctant to lose the quality of their vacation.
The luxury lifestyle is a way of life, a way of thinking for some people, it is their dna and they can't and won't compromise with the current economic situation. They fight and resist against the challenges and this is highly commendable and worthy of praise because it shows us the power of a person's inner strength.
They may not spend as much as they used to but they declare present and this is the most important thing for me, first as a human being and secondly as a professional in this sector.
TTT: Is there a specific region or group of travelers that is spending more than others?
TL: The area of luxury lifestyle and travel always had and always will have a glamour, it is a super cake that everyone wants to have a piece of, they want to be part of it. The pieces though are specific and are not enough for everyone. Let us assume that we are the chef, the creator of this cake. We would surely want to give a piece to everyone and through the packages that we create we make it our goal to satisfy as many as we possibly can.
Within this framework, those who claim the biggest piece of the cake are Americans, Indians, Chinese, Arabs and Russians. It is basically like a race where only pure bred Arab horses participate and it is extremely difficult to distinguish which one will be the winner.
To be more specific, I have seen an Arab who spent 4 million Euros in one night for his wedding in Mykonos, a businessman from India who spent hundreds of thousands of Euros for a few days in Santorini with his family, and I have also seen a Russian who proposed to his loved one in Elounta Crete and asked us to bring him a diamond ring worth one million Euros with a private jet from Switzerland.
As you can realize, those who can really spend and enjoy our services in luxury lifestyle and travel do not have a specific identity or nationality. They are citizens of the world as I name them and I do not want to be unfair to anyone.
TTT; Please give us some highlights and experiences from the Seven Stars Luxury Hospitality And Lifestyle Awards  show in Bali. Where there any providers that stood out in terms of luxury and experiences?
TL: Mr. Khalil El-Mouelhy, President/Founder of the Seven Stars Luxury Hospitality Awards and Mrs. Nicola El Mouelhy have undoubtedly done an extraordinary job.
The Seven Stars Luxury Hospitality and Lifestyle Awards have been characterized as the Oscar's of Luxury and this did not happen by coincidence. Everything is planned and thought down to the finest detail so as to have this exceptional outcome and honestly, I do not think that there is a potential competitor to the Seven Stars Luxury Hospitality And Lifestyle Awards on the market today..
This year's award ceremony was held on the 19th of September in Bali Indonesia at the exceptionally beautiful and luxurious Trans Resort Bali.
No coincidence, an organization of global radiance and prestige like the Seven Stars Luxury Hospitality and Lifestyle Awards, in combination with the Trans Resort Bali, headed by luxury Hospitality veteran GM Mr. Alexander Jovanovic and his team, brought a result equivalent to that of the Oscar's.
The reward for all of us that constitute the organization of the Seven Stars Luxury Hospitality and Lifestyle Awards as official partners and Luxury Panel Members came, when we greeted the honorable guests from the international jet set, as well as the winners who flew in from all over the world, either to attend the awards and honor the winners or to receive their prize.
Presenting the event was Turkish celebrity Ms Ece Vahapoglu, luxury panel member and official presenter of the Seven Stars Luxury Hospitality and Lifestyle Awards.
One of the many impressive moments of the evening was the presentation of the new resort wear collection from designer Paul Ropp. This was the first show Paul Ropp did since 2012 and it was an honor to have him with us.
Among those invited, except for the royal families, were new talented businessmen with innovative ideas that have a lot to offer to the Luxury Industry, as well as personas from the Luxury Panel such as Prince Max Della Torre e Tasso, Karine Lackner, and Frank M Pfaller who is not only the president of the Hoteliers Guild and Honorary Chairman of the awards but also the president and founder of the International Hospitality Hall of Fame.
When all these people meet, it is natural for them to exchange ideas and the result can be nothing but positive for all involved and this is another success awarded to President Mr. Khalil El Mouelhy that distinguishes him, on an international level.
At this point , please allow me to publicly thank Mr. Khalil and Mrs Nicola El-Mouelhy and I believe I speak for the entire luxury panel with this statement.
You know, it is a very special feeling to get up on stage to represent the organization of Seven Stars Luxury Hospitality and Lifestyle Awards and reward someone's work. It is an extremely touching moment and for this abundance of emotions I feel the need to say a big Thank You to the people that gave me the opportunity for this experience.
Both of them, are very ingenious, impeccable connoisseurs of what we call Luxury Lifestyle and Hospitality. Above all, they are both charismatic, hardworking individuals with a strong ethos, and we are all very appreciative of the standards that they have created. It is a pleasure to be a partner and a member of this organization.
There will soon be developments that are on the itinerary and there will be pleasant surprises for the area of Luxury Lifestyle and Hospitality on an international level. You see, following the day after the event , the preparations for the next one have already started and we promise you unforgettable moments that will bear the signature of the Seven Stars Luxury Hospitality and Lifestyle Awards.
I cannot go into further details, but I can assure you it is something that the world of luxury Hospitality and lifestyle has never seen before. Your readers can follow us through social media on Facebook, Instagram and Twitter and be up to date with all the latest developments.
TTT: The Greek crisis has long since passed. Can you give us some insight on how things are economically in Greece? Is luxury spending back on track?
TL: The crisis in Greece and wherever else it might have struck, has left victims behind, many decent people who were successful businessmen just a few years ago.
It was like a hurricane, it made no distinctions and swept away everything in its path. Greeks are tough and resistant people but above all they are hard working, resourceful and ingenious. Therefore, after the disaster , reconstruction has slowly started even though it is certain that it will take a while. Fortunately things are starting to return to their regular rhythms, however, nothing will ever be like before, something that we are all aware of.
Luxury spending has not returned to its prior rhythms and I doubt that it ever will.
Great efforts are being made in all sectors in order to offer luxury packages to citizens that prefer the luxury lifestyle. In the horizon one can see the first bright beams and I am optimistic that everything will be fine, perhaps not perfect, but fine.
TTT: We all want to know what the hottest travel trends are. Can you share your thoughts on what's hot in terms of luxury travel experiences?
TL: Luxury travel today is defined less by thread count and Michelin stars and more by access to the people, places and experiences that represent all that is authentic about a destination. There's no denying that comfort factors-24/7 concierge services still apply and high standards of accommodation will always feature on the luxury traveler's wish list.
However, today's luxury traveler seeks more depth of understanding and immersion into local culture than ever before and when this is combined with high quality services and luxury then this is the ideal. To make myself clear, Luxury is a much overused term. One traveler's luxury is another's ordinary. For my team and myself our focus is on delivering a seamless and personal service helping our clients to plan and enjoy luxury with authentic, quality experiences that will be long remembered. The mode of travel ( Lear jet, helicopter, yacht, limo) and type of accommodation used can vary from a 5 to 7-star hotel or a boutique property to a unique building or an eco-style lodge but the common theme is that the experience is a special one.
I would say that the winter tourism, ski and golf resorts are flourishing at the moemnt as guests are becoming more active and health conscious.
True luxury is a great travel experience, where every part and component of the trip and experience fits together seamlessly.
This is what my goal is when handling any of my clients.
TTT; Thank you so much for you time and thoughts Thanos. We always value your insight on the luxury industry.
By Doron Levy Courtesy TheTopTier Digital Media